Fillmore Experience (4/18-4/19/98)

Those who showed up late thought it was an unfair way to do the voucher sales but the Fillmore could not have been more fair and considerate.

My friend, Chris, and I showed up around 8pm or so. There was a line around to KFC...we parked ourselves there--dreading having to smell deep fried chicken all night, but they closed at 10 :)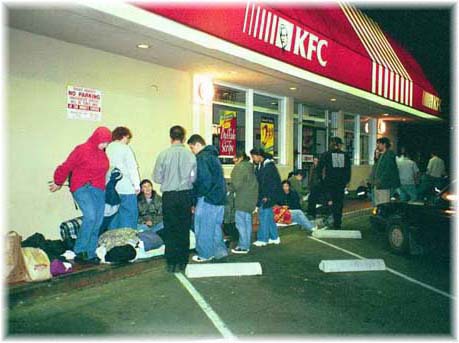 We got settled with our blankets and food and just hung out. We met some cool people that were next to us who had also never stayed the night for tickets before. Chris and I played MasterMind...that wonderful 80's game :)...and were getting pretty comfortable actually when this guy from the Fillmore came around with copies of VOIDED vouchers. The purpose of this was to give us a rundown of what we'd need to buy the tickets (ID, 27.50, etc). He said another guy would be coming around with a numbered list to sign. They needed the sidewalk area where the first people were lined up for Steve Miller's truck to load up so in order to clear the front of the line, they needed to clear everyone.
The next guy came around midnight with the list to sign. We signed on lines 96 and 97, got little tickets with those numbers and we got up to leave and come back at 7am to pick up where we left off. We ended up getting a $120 hotel room! Everywhere was booked because of that convention that always seems to be going on whenever I want a hotel room! But we did get a nice bed and a wonderful shower and 5 hours of sleep before we went back and sat on the concrete again.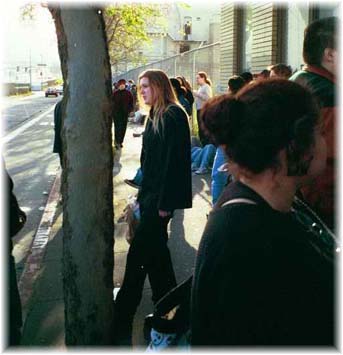 We ran into our neighbors and settled in with them again. People were showing up in the morning asking if this was the line for Tori tickets and were shocked and upset that they had given out numbers the night before. They couldn't seem to comprehend the fact that they would have still been #857 whether or not we all slept on the sidewalk or got to leave and come back, but whatever!
I don't think Happy Donut has ever gotten so much business. They were the only ones open early so everyone was getting donuts, coffee, tea, hot chocolate, etc and PLUS they had a bathroom---they became gods!
The line extended down Geary, around the corner by KFC, all the way down that block, around the next corner and back to Happy Donut! Pretty much 3 blocks long if it would have been straight.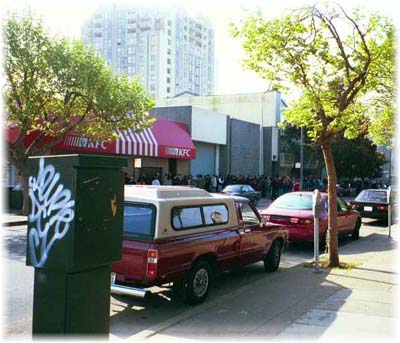 From 7am to 10am seemed to be a lifetime but when 10 rolled around, the line moved quickly. We had our vouchers by 10:45 and we turned around to get in another line for Bjork tickets that went on sale at the same time for the Warfield...We spent sooooo much time in line!!!!
But nevertheless, we left around noon, and finally got to go home very happy with Tori vouchers and Bjork tickets!!
Thank you to the Fillmore staff. Some even stayed to ensure the safety of the people who had no where to go and slept on the sidewalks. The staff was so nice...they had much more patience than I ever could have had in that situation!

See more people's experiences at "The Dent".


Last modified: April 20, 1998
RETURN TO TORI
RETURN TO PANDORA'S BOX